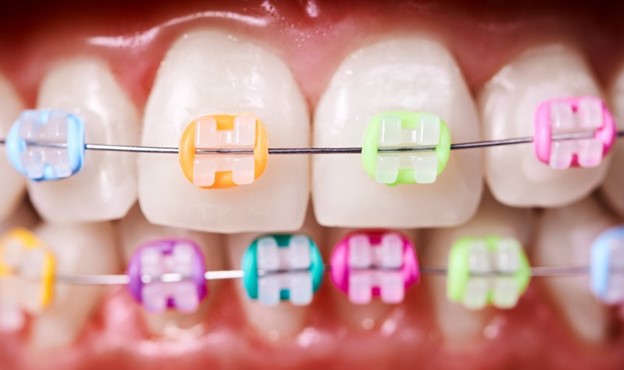 Do you have traditional braces? Then at each adjustment appointment you have the option to pick a new color of rubber bands or stick with the previous color. At first, you might not think anything of this decision, but it actually shares a little bit about you with those you come in contact with. With this in mind, keep reading to learn what the color of your braces means!
Red
Red is a powerful color that is associated with fire and passion. It is also the color of love, which can indicate to others that you are caring and thoughtful. When paired with green at Christmas or pink on Valentine's Day, it can show off your playfulness too!
Orange
Orange is a daring and unique color that can be perfect for spring, summer, and fall. While a pastel shade would be perfect for Easter, a deeper version would be ideal for Halloween. Either way, this is a great color to try out during your orthodontic treatment!
Yellow
The color of sunshine and sunflowers, yellow is the color of joyfulness, happiness, and brightness, indicating to others that you value those same things. Note: soft shades can be pretty, but they can also make your teeth look discolored from far away. So, make sure to pick a bright, vibrant yellow instead!
Green
Green represents growth, stability, and luck. It's a perfect fit for St. Patrick's Day in March or paired with red during Christmas. Again, just be sure to pick a complementary shade of green to avoid it looking like you have something stuck between your teeth!
Blue
The peaceful waves of the ocean and the clear sky on a sunny day are two things that come to mind when thinking of the color blue, so it's not too surprising that it's the color of calmness. One of the best parts about this color is that it can stand on its own beautifully and also match perfectly with virtually all other colors to spice it up!
White
Clean white sheets, fluffy clouds, and beautiful snowcapped mountains are all images that perfectly encapsulate the color white. It's also connected with cleanliness, and many patients are drawn to it because it can make their braces more discreet. Unfortunately, it can actually make your brackets stand out more since the bands can easily become stained. To prevent this from happening, simply steer clear of dark-colored foods and beverages.
Black
On the other end of the color wheel is black. While it may be associated with moodiness, it's also mysterious and elegant. If you want to ease into wearing this beautiful color, try alternating it with a fun shade of orange in celebration of Halloween.
Purple
From passion and creativity to royalty, purple is linked to several positive attributes. You can select a deep shade for the fall and winter or a nice pastel version during the spring and summer. In short, there is a way you can incorporate this color year-round!
Colorful braces are a way to express yourself and make your time with braces fun. So, don't hesitate to pick a daring shade or use one of the color combinations listed above!
About the Practice
Our team at Simply Orthodontics doesn't think braces should be boring – they should be fun! That's why we love helping our patients select rubber band colors that are creative, unique, and, of course, perfect for their personality. If you have a question about life with braces or would like to schedule an appointment with our team, don't hesitate to visit our website or call (603) 889-1100.