Invisalign – Derry, NH
Gain More Freedom with Removable Aligners
When you have new metal brackets and wires placed on teeth, it forces you to make adjustments to your daily habits. This includes the changes in the food you eat and the way you practice brushing and flossing. However, if your case is less than severe, you may be eligible for Invisalign's clear aligner system! With it, you can have more freedom in your orthodontic treatment and experience one of the most trusted clear aligner systems ever developed! Don't wait to call Simply Orthodontics Derry today to see if Invisalign from our Derry, NH orthodontist is right for you.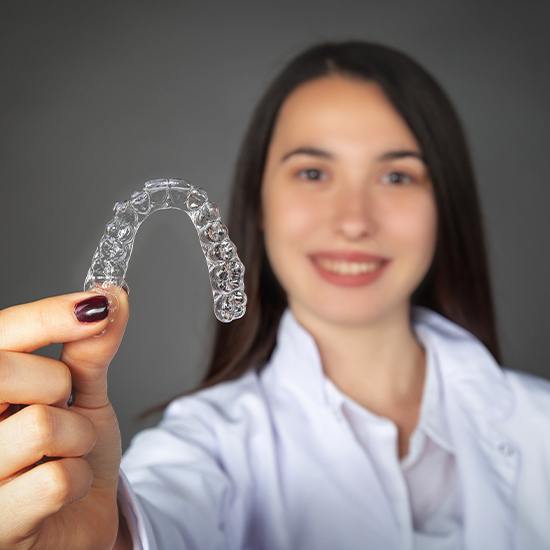 The Treatment Process in More Detail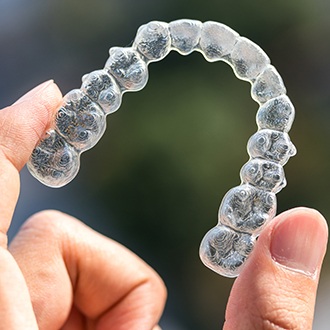 Patients wear a series of clear trays over the course of several months in order to gently push teeth into a straighter position. Each pair is designed to represent a new stage of your treatment. By wearing the tray for about 22 hours per day, your teeth will slowly shift over the next two weeks. After wearing each tray in the series, a retainer must be worn in order to keep teeth straight. Additionally, you do not have to visit our orthodontic office as often for checkups because you'll have access to all the aligners you need to achieve your new smile.
Expectations for Invisalign Treatment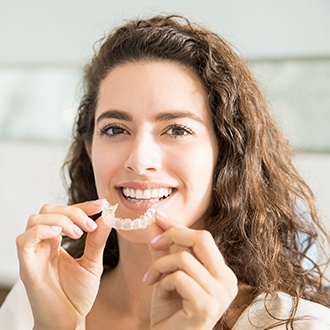 You will need to wear your aligners for a specific period of time every day. The minimum amount of time you need to wear them is 20 hours, but we recommend that you wear them for 22 hours for maximum effectiveness. The more you wear them, the faster your teeth will shift to their new positions. Removing your aligners is very easy, which means you can eat all the foods you love without harming your orthodontic appliances. You also don't need to relearn your brushing and flossing, which is typical for fixed orthodontics. With that said, cleaning the aligners daily and keeping them in their case when not in use is essential to keeping them clear and protected.
Eligibility for Invisalign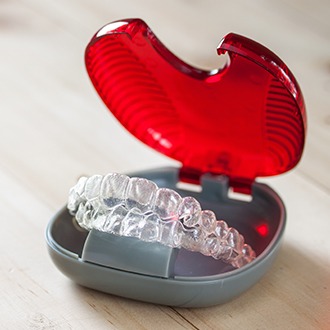 If you have a severe case of misaligned teeth or a seriously uneven bite, you may want to consider a different orthodontic treatment. This is particularly the case if you have back teeth that are severely crooked as Invisalign does not provide the same results for these teeth as traditional orthodontics. Lastly, you should only use Invisalign if your permanent teeth have erupted, which is why we do not recommend it for children. Teenagers are eligible for treatment, however, since their teeth are not growing and developing as rapidly. If you find it difficult to wear the aligners for the required amount of time, fixed options may be better.
Invisalign Frequently Asked Questions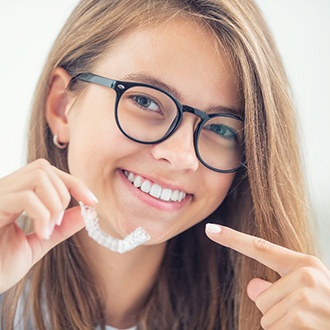 Are you ready to gain more freedom with removable aligners as you straighten your smile? Invisalign is truly unlike any other orthodontic treatment, so it's natural to have a few questions about it. During your consultation, we'll be happy to go over all the information you need. In the meantime, we've gathered a few common questions we get about Invisalign below. If you don't see the answers you're looking for, don't hesitate to give us a call!
Does Wearing Invisalign Aligners Hurt?
Traditional metal braces have wires and brackets that can irritate your lips, cheeks, and tongue. On the other hand, Invisalign aligners are crafted from a single piece of smooth, biocompatible plastic. This allows them to glide effortlessly over your soft tissues, so they won't cause you any discomfort.
However, it is normal to experience some soreness when starting a new set of aligners. But don't worry—that means the treatment is working! Any dental discomfort you feel should be mild and fade within a few days. To manage your symptoms, you can take an over-the-counter pain reliever, apply an ice pack, or start each new set of aligners right before bed.
How Are Invisalign Aligners Cared For?
Since Invisalign aligners are removable, it's easy to keep them and the rest of your smile clean! Just keep these simple tips in mind:
Don't use your normal toothbrush and toothpaste to clean your aligners. This can scratch and weaken them. Instead, soak them in water or Invisalign cleaning solution regularly and use a soft-bristled toothbrush.
Rinse off your aligners every time you take them out to prevent saliva, plaque, and bacteria from drying out on them.
Protect your aligners from staining by always brushing your teeth before putting your aligners back in after eating.
Do I Have to Avoid Certain Foods During My Invisalign Treatment?
Invisalign gives you the freedom to keep enjoying all your favorite foods and drinks! Simply remove your aligners, enjoy your meal or snack, and give your teeth a quick brush before popping them back into place. This way, you don't have to give up popcorn, apples, or any other foods during your treatment! However, we strongly recommend that you never wrap your aligners up in a napkin or leave them out of their case while you eat. This makes it all too easy for them to be accidentally thrown away, left behind, or made into a toy for a nearby pet or small child! Whenever you're not wearing your aligners, keep them safe by storing them in their case.
Can I Get Invisalign If I've Had Metal Braces Before?
It's not uncommon for patients who previously completed a traditional orthodontic treatment to find that their teeth have shifted out of place again years later, especially if they neglected to wear their retainers. Thankfully, if your case isn't too severe, Invisalign can probably help you regain a straighter smile! However, every case is different, so you'll need to see us for a consultation to be sure. We'll carefully inspect your teeth, jaw, and bite alignment to determine which treatment can best help you achieve the beautiful results you deserve!
If you're ready to get a straighter, healthier smile, give us a call today to schedule your appointment!