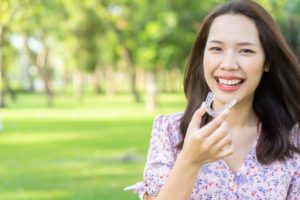 Invisalign is a convenient orthodontic treatment that's designed to blend into your daily lifestyle. Unlike traditional metal braces, you won't have to change what you eat, how you clean your teeth or how confident you feel when you smile. However, choosing Invisalign is still a long-term commitment, so it's important to know what you're getting into before you begin. Let's take a look at what your typical day may look like during your Invisalign treatment.
Starting the Day Off Right
When you wake up in the morning, take out your aligners and rinse them off with tap water. Then, feel free to brush and floss your teeth like you normally would! Once your smile is fresh and clean, you'll be ready to pop your aligners back in and start your day. During your breakfast, make sure to take out your aligners once again before chowing down on cereal and drinking your coffee. Remember, it's important that your aligners don't come in contact with any foods or drinks other than water.
Enjoying Your Smile All Day Long
Since Invisalign aligners are clear and smooth, you can go about much of your day as you normally would, speaking and smiling confidently. You can easily play a woodwind instrument, a brass instrument, or sports simply by taking out your aligners before doing so. Keep in mind that you need to wear your aligners for at least 20-22 hours every day to keep your treatment on track.
Do your best to avoid sipping or snacking throughout the day. You'll need to take your aligners out every time you do so and brush your teeth before putting them back in. If you can't brush your teeth right away, you can put your aligners back in to make sure your teeth are still being straightened. However, you should brush your teeth and rinse your aligners within four to six hours to prevent staining your aligners, getting bad breath, and increasing your risk of oral health conditions.
Ending a Day During Your Invisalign Treatment
At the end of each day, clean off your aligners and brush and floss your teeth thoroughly. Don't forget to put your aligners back in afterward! It's important that you go to sleep wearing your aligners so that your orthodontic treatment can keep moving forward and the results you've already gained aren't lost.
Checkups & New Trays
Every several weeks, you'll visit your orthodontist for a quick checkup. They'll ask you how your treatment is going and carefully inspect your teeth, gums, and aligners. These checkups allow them to monitor your progress and make slight adjustments as needed. They will also be able to spot any early warning signs of issues like cavities, gum disease, or teeth grinding. You'll also pick up your next several sets of aligners during these appointments. According to your orthodontist's directions, you'll likely wear each set of Invisalign aligners for a week or two, then move on to the next set in the series. Sometimes, this may cause discomfort, but it should be easily managed and short-lived. Temporarily eating a softer diet, consuming cold foods and drinks, and taking over-the-counter pain relivers as directed can all help ease aligner discomfort.
Many patients are pleasantly surprised at how little their orthodontic treatment with Invisalign impacts their day-to-day lives. Thanks to this revolutionary service, it's never been easier to get a straighter, healthier smile!
About the Practice
At Simply Orthodontics, we're proud to offer an orthodontic service for practically every type of smile. Our talented team has helped countless patients in Derry, Hudson, and the surrounding New Hampshire communities correct overcrowded teeth, gapped teeth, bite issues, and all manner of other orthodontic problems with personalized treatments that suit their lifestyle. One such treatment is Invisalign, which offers a wide variety of freedoms our patients can enjoy while straightening their smile. To learn more, we can be contacted online or at (603) 437-0331.