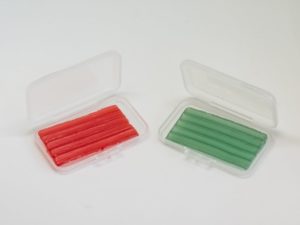 While there are plenty of orthodontic treatments to choose from nowadays, traditional braces are still one of the most effective and reliable ways to get a straighter smile. If you're unfamiliar with day-to-day life with braces, you may be confused when your orthodontist sends you home with a container of dental wax. It may not be obvious at first, but this material can make all the difference when it comes to making your treatment go as smoothly and comfortably as possible. Here's everything you need to know about dental wax and how to best use it during your orthodontic treatment!
What Is Dental Wax?
When you hear the word "wax," candles are probably the first thing that comes to mind. Thankfully, candle wax and wax for braces are very different! Dental or orthodontic wax is made from natural materials like carnuba, paraffin wax and beeswax. While it's not advised to eat or swallow any of these substances intentionally, they're biocompatible and safe to be in your mouth. Dental wax is flexible enough to be molded onto braces and sturdy enough to stay there for some time.
Why Is Dental Wax Used with Braces?
When you first begin to wear braces, it's natural to feel some irritation in your soft tissues. The metal wires and brackets may feel uncomfortable while they rub against the inside of your cheeks and lips. Over time, these areas will become tougher and won't be bothered by your braces anymore. In the meantime, dental wax can help minimize the discomfort. Dental wax can be put over the sharp parts of your braces to smooth them out and stop the abrasion while your soft tissues heal.
How Is Dental Wax Used?
Dental wax is easy to use! First, be sure to wash your hands and brush your teeth to prevent trapping any bacteria or food debris underneath the wax. Then, pinch off a small bit of wax, about the size of half of a pea, and roll it into a ball. Smooth the ball of wax over the problematic area of your braces and that's it! You can keep it there for as long as you need, even while eating, drinking, and sleeping. Don't worry if you accidentally swallow it — dental wax is non-toxic. You should replace it while brushing and flossing or if it starts to fall off on its own, and you shouldn't wear the same piece of wax for more than two days.
What If the Dental Wax Doesn't Help?
Every type of orthodontic treatment is going to cause some discomfort as it gently pushes your teeth into place. Taking over-the-counter pain relivers as directed and applying a cold compress to ease swelling will help mitigate any dental soreness you feel. Cold foods and drinks as well as rinsing with warm saltwater will also work to numb irritated soft tissues and keep them clean. However, if your discomfort doesn't seem to be getting better after a few days or your dental wax doesn't seem to be helping, contact your orthodontist. They'll inspect your mouth for hidden issues and make any necessary adjustments to your braces to help them feel more comfortable.
Remember, despite any pain or soreness you may experience during your orthodontic treatment, the results will be well worth the effort. Dental wax for braces can go a long way in making your journey towards a straighter smile more comfortable!
About the Practice
At Simply Orthodontics, we use state-of-the-art technology and the latest orthodontic treatments to help our patients in Derry, Hudson and the surrounding New Hampshire communities achieve healthier smiles. From our flexible payment options to our outstanding customer service, we go above and beyond to make correcting orthodontic issues as easy as possible. And no matter which treatment you choose, you can count on our talented team to be with you every step of the way to make sure everything goes as smoothly as possible! To learn more about dental wax or traditional braces, we can be contacted online or at (603) 889-1100.