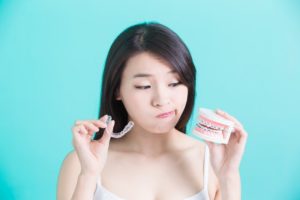 Orthodontic treatment has advanced by leaps and bounds over the years. Nowadays, there are plenty of ways to fix crooked teeth and bite issues. From clear aligners to self-litigating braces, it's never been easier to get a straighter smile. However, there are situations when traditional braces are the best, or only, option to correct orthodontic issues. Here are four reasons why you may benefit more from traditional braces instead of other options like Invisalign.
1.) You Have Complex Orthodontic Issues
Treatments like Invisalign can correct mild to moderate tooth and bite misalignment. However, if you're suffering from a severe orthodontic issue, Invisalign and other types of braces won't be effective enough to straighten your smile. Thankfully, traditional braces can easily and reliably handle even the most complicated problems, like:
Severe overbite, underbite, crossbite, or open bite
Rotated or very crooked teeth
Significant crowding or overlapping
Large gaps between teeth
Teeth that need to be raised or lowered
2.) You're More Likely to Complete Treatment On Time
Traditional braces are a reliable way to correct orthodontic problems because there are only a few ways you could accidentally delay your treatment timeline. As long as you keep up with your orthodontic checkups, practice great oral hygiene, and refrain from habits that could damage your teeth, you're likely to finish your treatment on time and according to plan. On the other hand, there are plenty of ways you may get off track and delay straightening your smile with removable orthodontics. It's all too easy to lose, break, or simply forget to wear clear aligners, which will increase the length and cost of your treatment.
3.) Braces Require Less Daily Responsibility
Many patients love the idea of removable orthodontics. However, this exciting freedom comes with a lot of responsibility, which can be especially difficult for busy or forgetful teenagers! After all, it takes a tremendous amount of self-discipline to choose to wear your aligners for 20-22 hours every day and take them out every single time you want to eat or drink something. Meanwhile, braces are fixed to your teeth, so you don't have to worry about accidentally throwing them out, leaving them behind, or forgetting to wear them.
4.) Eating with Braces Can Be Less of a Hassle Then Invisalign
Invisalign may let you eat what you want, braces allow you to eat when you want. Invisalign aligners are very fragile and susceptible to staining, so you need to take them out before eating or drinking anything besides water. After a while, this can make enjoying your favorite foods, snacks, and drinks such a hassle that you end up consuming them far less often than expected. While you need to avoid certain hard and sticky foods with traditional braces, they're strong enough to withstand a wide variety of foods that you can eat whenever you like without worry or extra preparation.
Ready to get the straighter, healthier smile you deserve? Talk to your orthodontist today to see if traditional braces are the best option for you!
About the Practice
At Simply Orthodontics, we're pleased to offer a wide range of services for the smiles of Derry, Hudson and the surrounding New Hampshire communities. Once one of our highly experienced orthodontists evaluates your smile, they'll be happy to go over all your treatment options in detail and help you choose the one that best suits your needs, lifestyle and budget. Whichever option you choose, they'll be with you every step of the way to make sure the entire process goes as smoothly as possible. To learn more, we can be contacted online or at (603) 437-0331