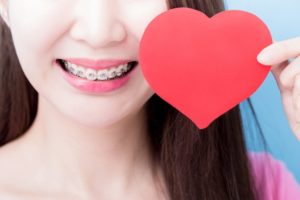 Valentine's Day is almost here! Whether you're celebrating your love for your friends, family, that special someone, or yourself, it's a great time to indulge in some special treats. However, don't forget to love your smile this Valentine's Day too! If you wear braces, there are a few special precautions you need to take to keep your treatment on track while celebrating this holiday. Here's everything you need to know about how to safely enjoy Valentine's Day while straightening your smile!
Avoid These Sweets from Your Sweetheart
Nothing says "I love you" like chocolate and candy! Giving sweets to your sweetheart is a popular thing to do on Valentine's Day, and you don't have to give up this sweet show of affection just because you're wearing braces! However, if you or your loved one is wearing braces, make sure to steer clear of:
Hard candies and lollipops
Chocolate with nuts
Candies with sticky fillings
Sticky caramels
Carmel corn and popcorn
Thankfully, there are still plenty of delicious treats braces-wearers can indulge in (with moderation of course!), like:
Smooth ice cream and ice cream cake
Soft chocolates and truffles
Soft cookies
After celebrating, be sure to brush thoroughly or drink plenty of water to clear away those cavity-causing sugars.
Tips for Kissing with Braces
Planning on kissing your special someone this Valentine's Day? Don't worry — if you and your partner both wear braces, they won't get stuck together. However, it's important that you do take extra care to protect each other from your wires and brackets. Take it slow at first to avoid snagging the lips, and keep your tongues away from your braces. It's a good idea to cover your brackets with orthodontic wax to ensure you and your partner are as comfortable as possible while kissing.
Gift Ideas for Your Valentine with Braces
If your loved one has braces, you probably already know there are lots of sweets and treats that can potentially damage their braces. Since this includes many traditional Valentine's Day treats, you may feel at a loss for what to get them. Show your loved one and their smile some love with braces-friendly gifts like:
Flowers
Chocolate covered strawberries
Soft chocolates, truffles, and ice cream
A hand-written card
Dinner and a movie (but no popcorn!)
A gift card
Homemade gifts
Celebrating Valentine's Day can be easy and fun with the right precautions! Keep these tips in mind to ensure you stay on track for getting a healthy, straight smile that you're going to love!
About the Practice
At Simply Orthodontics, we love to help smiles of all ages in Derry, Hudson, and the surrounding New Hampshire communities look and feel their best. That's why we offer all the latest orthodontic treatments to make it easy to get a straighter set of pearly whites. From Invisalign to adult braces, we are proud to offer all the treatments you need under one roof! For more tips on enjoying Valentine's Day with braces, we can be contacted online or at (603) 889-1100.