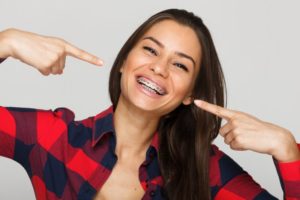 It's January, and you know what that means! It's time to set goals for the upcoming year and take steps towards becoming our best selves. If you have Invisalign or braces, you're already on your way to improved health, confidence, and a better smile! Now is an excellent time to recommit yourself to a few simple but important healthy habits for your pearly whites. Here are five great New Year's resolutions for you to consider if you're currently undergoing orthodontic treatment!
1.) Make Time for Brushing
Did you know that some experts report that orthodontic treatment is faster and more efficient in a clean, healthy mouth? Of course, great oral hygiene is also essential for preventing a wide array of problems like cavities and gum disease during your treatment. That's why it's so important that you take the time to brush your teeth for a full two minutes twice a day to thoroughly clean out the harmful particles in your mouth. It's a good idea to resolve to carry a travel toothbrush with you as well so you can brush your teeth after every meal and snack.
2.) Learn to Love Flossing
If you find flossing frustrating or awkward, you're certainly not alone. However, studies indicate that flossing is the only way to remove the 40% of plaque and bacteria in your mouth that your toothbrush bristles can't reach. Thankfully, there are plenty of ways you can learn to love to floss in 2021. Brush up on your flossing technique and talk to your orthodontist about the best way to floss around your braces. You can also consider getting waxed or fun-flavored floss, pre-threaded flossers, or a waterpik.
3.) Keep Your Treatment Plan On Track
Whether you have Invisalign or traditional braces, the effectiveness of your treatment depends a lot on your day-to-day habits. For Invisalign, it's up to you to wear your aligners for 20-22 hours every day to keep moving your teeth in the correct direction. If your traditional braces come with extras like rubber bands, it's essential that you wear them as directed by your orthodontist to get the best results.
4.) Stick to Good Snacking Habits
Choosing healthy snacks is an important habit whether you're undergoing orthodontic treatment or not! A few wrong choices in your everyday diet can lead to a mouthful of cavities, while a few nutritious foods will actually improve your oral health. When wearing traditional braces, it's especially important to adhere to your list of safe and unsafe foods to protect your wires and brackets from damage. When you pass on hard, sticky, and sugary treats and choose softer and healthier foods, your body and smile will thank you!
5.) Don't Put Off Your Checkups
With the help of modern dental technology, software, and techniques, it's never been easier to plan out an effective orthodontic treatment plan from the very beginning. However, that doesn't mean you can put off coming in for your regular checkups! Visiting your orthodontist every several weeks lets them monitor your progress and ensure your treatment is on track. This also gives them the chance to spot any issues as early as possible and make any needed adjustments so you can achieve your straighter smile efficiently.
You've already made an important commitment to your wellbeing and quality of life by choosing to undergo an orthodontic treatment. Make the most of it by adopting these five great New Year's resolutions!
About the Practice
At Simply Orthodontics, we're proud to offer a variety of orthodontic services for the smiles of Derry, Hudson, and the surrounding New Hampshire communities. From Invisalign to traditional braces to much more, we can help patients of all ages overcome nearly any orthodontic issue. What's more, our team of compassionate, highly experienced orthodontists will be with you every step of the way to answer your questions and help your treatment go as smoothly as possible. To learn more, we can be contacted online or at (603) 437-0331.