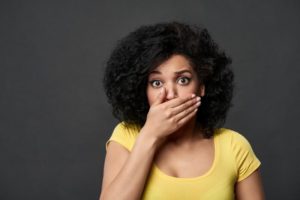 One of the most popular benefits of Invisalign in New Hampshire is that you can remove your aligners whenever you need to! This allows you to keep enjoying all your favorite foods and activities all throughout your treatment. However, this freedom comes with a lot of responsibility. Hopefully, you'll never lose an aligner, but accidents happen. If you've misplaced your Invisalign aligners, follow these steps to keep your treatment on track.
Step 1: Look for Your Aligner
While it's a huge benefit that your aligners are practically invisible when you wear them, this can make them difficult to find if you lose one. Try retracing your steps and carefully looking around all the areas you've been recently. It may also help to try and remember what you were doing the last time you can recall seeing them. Check between couch cushions, under napkins, on the floor, and in your pocket or bag. You may need to check the garbage to see if you accidentally threw them out!
Step 2: Call Your Orthodontist
If you've looked everywhere and simply can't find your lost aligner, don't wait a day or two to see if they magically show up somewhere. The longer you go without wearing your aligner, the more likely it is that your teeth will gradually shift out of position and reverse your progress. By then, even if you do find your aligner, it may no longer fit! If you haven't found your aligner by the end of the day, you should call your orthodontist.
Step 3: Follow Your Orthodontist's Instructions
The directions your orthodontist will give you when you call them will depend on your unique situation. If you had just switched to this aligner, they may recommend wearing your previous set until your replacement aligner arrives. If you were almost done with your lost aligner, they may instead tell you to move on to your next set a bit early.
Don't try making this decision on your own! Only your orthodontist can determine the safest way to care for your smile in the event you lose an aligner. In addition, they'll let you know if a replacement aligner is needed and when you can expect it to be ready for pickup.
Step 4: Learn How to Avoid Losing Your Aligner
As with anything that doesn't go quite as planned, it's important to take some time to learn from the experience. Hopefully, this ordeal will help you to remember to keep better track of your aligners! A few good lessons to take away from this situation are:
Only take your aligners out when necessary.
Always keep your aligners in their case when you're not wearing them.
Don't leave your aligners on a lunch tray, countertop, or wrapped in a napkin.
If you do lose an Invisalign aligner, don't panic. Just keep these simple but important steps in mind to make sure you stay on track for a straighter smile.
About the Practice
Our talented team at Simply Orthodontics is proud to help the families of Derry, Hudson, and the surrounding New Hampshire communities overcome any orthodontic issue that they face. Whether you need traditional braces, Invisalign clear aligners, or any treatment in between, we'll be with you every step of the way to ensure the process goes as smoothly as possible. We are committed to providing compassionate and friendly dental care, so don't be embarrassed to give us a call if you lose an Invisalign aligner! We can be reached online or at (603) 437-0331.