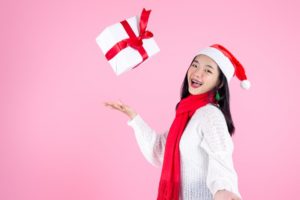 It's December already! Have you started shopping for the holidays yet? Finding the perfect gift that your friends and family will appreciate and find useful can be quite the challenge. This can be especially true if your loved one just started wearing braces in New Hampshire. Thankfully, there are plenty of thoughtful gifts for their smiles that will help make their holiday season extra merry and bright! Here are seven gift ideas for your loved one with braces.
1.) Braces Survival Kit
Someone who just started wearing braces would love to receive a braces survival kit filled with helpful items they'll need throughout their orthodontic treatment. Find a small bag, case, or basket and fill it with items like:
A compact mirror and threaded flosser to help make it easier to clean their teeth.
Mini toothbrushes, mini mouthwash, and mini toothpaste for on-the-go cleaning.
Lip balm, over-the-counter pain relivers, and orthodontic wax to soothe soreness.
2.) Orthodontic Wax
Orthodontic wax is a must-have for anyone with braces. High-quality items with good reviews can help your loved one stay comfortable as their smile is straightened. Consider products like Genuine Orthowax, GUM orthodontic wax, and OrthoDots Clear.
3.) A Braces Cookbook
Finding new things to eat that are both tasty and safe for braces can be a challenge. For those who are cooking-inclined (or are looking to become so), a braces-friendly cookbook could be a wonderful choice.
4.) Electric Toothbrush
While some can be a little pricey, electric toothbrushes can make a huge difference in cleaning teeth around wires and brackets. Some even come with built-in sensors, modes, timers, and other features to help make toothbrushing as efficient and effective as possible.
5.) Waterpik Ultra Water Flosser
This popular flossing aid is a bit more expensive than other gift options, but parents and dental experts everywhere highly recommend a Waterpik for those with braces. Not only does it help make flossing around wires and brackets easier, but the cool splash of water can ease soreness in the mouth.
6.) Gift Card for Ice Cream or Frozen Yogurt
For a fun present that's both useful and enjoyable, consider giving your loved one a gift card for their favorite ice cream or frozen yogurt place. This special treat is undoubtedly a gift that they'll appreciate any time during their treatment.
7.) A Brighter Smile
For someone who has recently gotten their braces off or is about to, you can give them the gift of a brighter smile with a professional teeth-whitening treatment. The placement of brackets can sometimes leave teeth unevenly discolored once they're removed. Help your loved one feel excited to show off their newly straightened smile by bringing them in for a quick and comfortable teeth whitening treatment!
Getting braces can be an exciting time in your family member's or friend's life, but it can also be a little bit challenging. Help them have a fun-filled holiday season by giving them one of these braces-friendly gifts!
About the Practice
At Simply Orthodontics, we're passionate about helping the families of Derry, Hudson, and the surrounding New Hampshire communities achieve straighter smiles. With a wide variety of orthodontic treatments including everything from Invisalign clear aligners, to traditional braces, and everything in between, we're confident we can help you get the happy, healthy smile you or your loved one deserves. For more tips on surviving the holidays with braces, feel free to contact us via our website or at (603) 437-0331.